Outline and Overview
Exhibition hall guide and map
Port Messe Nagoya (Nagoya International Exhibition Hall)
2-2 Kinjo Futo, Minato-ku, Nagoya City, Aichi Prefecture 455-0848
Tel. 052-398-1771 (Central)
Exhibition Sites No. 1 through 3 comprise a total of 34,000 m2 of meeting space, making this the largest international trade fair site in the Chubu region of Japan. The facility also offers other meeting halls, conference rooms, special event halls, and restaurants.
The closest train station is Kinjo-Futo Station, approximately 24 minutes from Nagoya station via the Aonami Line.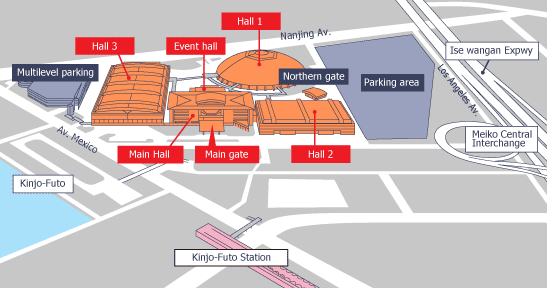 Hall 1

Exhibits of all types

Hall 2

Public Events

Hall 3

Exhibits of all types

Exchange Center

1st Floor Exhibition reception desk, central information counter, visitor services (parcel delivery, etc.)
2nd Floor Café restaurant (exhibition dining hall)
3rd Floor Lecture rooms, seminar/conference rooms
4th Floor Seminar/conference rooms

Event Hall

1st Floor Japanese restaurant, first aid room and police patrol office
2nd Floor Ceremonies and Seminars(event hall)
Central Japan International Airport (Centrair)
1 Centrair, Tokoname City, Aichi Prefecture 479-8701
Tel. (0569) 38-1195 (Telephone Center)
http://www.centrair.jp/en
Opened in 2005, Centrair is equipped with facilities that are among the most advanced technology in Japan. The airport simultaneously serves as a new international base for Japan and as a transportation hub for a variety of industries in the Chubu region. A direct rail connection runs from Nagoya Station to the Airport Terminal Station, and the limited express takes approximately 28 minutes.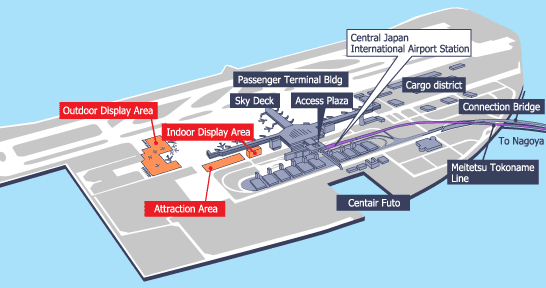 Outdoor display area

Fixed wing-aircraft and helicopter displays, flying displays,airport vehicle displays

Attraction areas

special events, attractions, dining booth

Indoor display area

PR display by flight operators and educational institutions, security check