History
History of International Aerospace Exhibition
Our history and purpose
Looking back
The Japan International Aerospace Exhibition is the largest of its kind in Asia. It has been held every few years since 1966, drawing more overseas interest and participation each time. The Asahi Shimbun and Japan Aeronautic Association with cooperation from America's National Aeronautics and Space Administration (NASA) co-hosted the inaugural through fourth exhibitions. The Society of Japanese Aerospace Companies has handled hosting duties since the fifth exhibition.
Unlike similar exhibitions overseas, where military technology generally occupies half the display areas, JASA chiefly presents technologies for civilian and other peaceful use. The space exhibits featured are also of a larger scale than those in Europe.
History of the Exhibition
The first through seventh exhibitions were held at Japan Air Self Defense Force bases. Later exhibitions shifted indoors to accommodate growing requests for technical exhibitions, chiefly related to the aerospace industry and technical development. The land and flight demonstrations which had been held on base premises developed into annual events held at Air Self Defense Force bases nationwide.
No.
Dates
Location
Participating
countries
Participating
organizations
Number of attendees
1
November 3-6, 1966
Japan Air Self Defense Force Iruma Air Base
2
42
380,000
2
October 9-13, 1968
Japan Air Self Defense Force Iruma Air Base
6
96
500,000
3
October 29-
November 3, 1971
Japan Air Self Defense Force Komaki Air Base
8
177
500,000
4
October 5-11, 1973
Japan Air Self Defense Force Iruma Air Base
8
119
610,000
5
October 16-24, 1976
Japan Air Self Defense Force Iruma Air Base
8
123
480,000
6
November 17-25, 1979
Japan Air Self Defense Force Iruma Air Base
9
122
270,000
7
October 29-
November 6, 1983
Japan Air Self Defense Force Gifu Air Base
7
110
430,000
8
February 14-18, 1991
Nippon Convention Center (Makuhari Messe)
10
259
80,000
9
February 15-19, 1995
Nippon Convention Center (Makuhari Messe)
21
282
84,000
10
March 22-26, 2000
Tokyo Big Sight
24 countries and regions
297
110,000
11
October 6-10, 2004
Pacifico Yokohama
24 countries and regions
343
110,000
12
October 1-5, 2008
Pacifico Yokohama Exhibition Hall, Annex Hall and peripheral facilities (including heliport)
22 countries and regions
528
42,000
13
October 9-14, 2012
Port Messe Nagoya/Central Japan International Airport
40 (estimated)
700 (estimated)
65,000 (estimated)

(Caption for photo above)
The inaugural exhibition coincided with the International Space Development Expo (also known as the Gemini 10 Expo) held at the Seibu Department Store in Ikebukuro, Tokyo. The expo bustled with activity for 26 consecutive days (except when closed for three days), and enormous lines wound down the stairways all the way from the seventh floor exhibition hall to the ground floor. This was also when the wildly popular and long-running sci-fi television series "Ultraman" began its broadcast run. Events everywhere signaled the dawn of Japan's space age.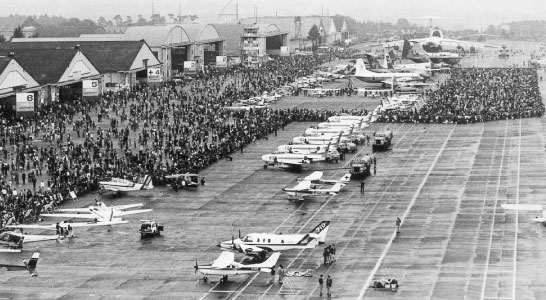 (Caption for photo above)
Iruma Air Base during the fourth exhibition in 1973. There were a total of 61,000 attendees.

JA2012 will feature outdoor fixed-wing flight demonstrations for the first time in 30 years of expo history, as well as large replicas of spacecraft. It's being talked about by a wide multinational demographic including media agencies, industries and aerospace fans, and inquiries are already pouring in.