Events
Port Messe Nagoya
Various events intended for young people who will forge the future of the aerospace industry will be held.
Indoor Guided tour for junior high and high school students
Oct 12 (Fri.), Oct 13 (Sat.) Hall 1 & Hall 3
This is a guided tour intended for junior high and high school students who will become future leaders in the aerospace industry.
Participants will have the chance to see the actual trade exhibition with guidance throughout the exhibition area.
---
The 8th All Japan Student's Indoor Flying Robot Contest
Oct 13 (Sat.) 13:00 ~ Opening ceremony
Oct 14 (Sun.) ~16:30 Closing ceremony (tentative) Hall 2
Organizer : The Japan Society for Aeronautical and Space Sciences
Partner Organizers : Ohta Business SozoKyougikai,
Japan Aerospace Exploration Agency (JAXA)
Sponsors : Ministry of Education, Culture, Sports, Science and Technology,
Ministry of Economy, Trade and Industry, City of Nagoya, Aichi Prefecture
This is a robotics competition intended to promote education for aeronautical engineering at the university level. Students will compete in designing, creating and flying an aerial robot that can be remotely piloted through a confined environment. Click here for details.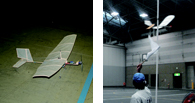 ---
Lecture Presentation by JAXA Astronaut Soichi Noguchi
Oct 13 (Sat.) 14:00 ~ 15:00 (tentative) Event Hall-2nd floor hall
A lecture presentation by JAXA Astronaut Soichi Noguchi will be held.

---
Organizer's Exhibition
Oct 9 (Tue.) ~ 14 (Sun.) Hall 1
[Aerial Public Zone]

The exhibition features the history of aircraft development and a life-size replica of the Hans Grade airplane.

[Space Public Zone]

The exhibition features the history of rocket development and a replica of a currently-operated Japanese satellite.
Exhibitor's Presentation Seminars
Oct 10 (Wed.), Oct 11 (Thur.) Open stage inside of Hall 1 / Seminar room
Exhibitors will make presentations and hold seminars that introduce their businesses and explain about their products.
Central Japan International Airport - Centrair
Oct12 (Fri.) to Oct 14 (Sun.) 10:00 ~ 16:00
Approximately 30 aircrafts will be displayed at Central Japan International Airport –Centrair, along with a fixed-wing aircraft which will be the first display of its kind in 29 years at the International Aerospace Exhibition.
Outdoor Exhibitions
Ground Exhibitions
・ Aircraft developed in Japan
Commercial aircraft: MU-300, FA-200
JASDF (Japan Air Self Defense Force): C-1, T-4, T-7, OH-1, UH-1

・ Aircraft jointly developed with overseas partners

Dream Lifter (B747), BK-117, Global Express

・ Special purpose aircraft

Aircraft used for firefighting, coast guard operations, flight inspections, news reporting, surveys and measurement, and medical emergencies as well as business jets, training aircraft, and more
Flight Demonstrations
Blue Impulse(flying-in), OH-1, BK-117, AS365N3, EC-135, etc
Indoor Exhibition
Introduction to Occupations
Location: Indoor exhibition area
The exhibition features an introduction to aerospace-related occupations through exhibition booths by companies, organizations, universities and professional education institutions, as well as training equipment displays (including actual airplanes).
・Types of Occupations

Pilot, mechanic, air traffic controller, air traffic control navigator, air traffic control communication official, air traffic engineer, flight inspector, aeronautical ground light and electrical equipment engineer, aviation satellite operator, in-aircraft rescue correspondent, cabin crew, and more

・Exhibiting Companies and Organizations

Japan Airlines Co., Ltd., All Nippon Airways Co., Ltd., Civil Aviation College, Aeronautical Safety College, Tokai University, Hosei University, Teikyo University,Sojo University, Sky Creation, Inc., Kawasaki Heavy Industries, Ltd. / Central Helicopter Service, Ltd.,College of Naka-Nihon Aviation, Japan Aviation Professional Training College, Steering Committee for Haneda Aerospace Museum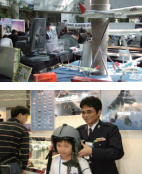 Events
The Centrair Runway Backstage Tour
Oct 12 (Fri.), 13 (Sat.), 14 (Sun.)
Departure location: In front of the waiting lounge located on the 1st floor of Central Japan International Airport (Centrair) Passenger Terminal.
Departure time:

①9:15 (tour will end around 11:00)② 13:00 (tour will end around 14:45) ③ 15:15 (tour will end around 17:00) ※There will be no 9:15 tour on Oct 12 (Fri.).

Tour Fee:

Adult: 6,000 yen / Junior High School and High School Student: 5,000 yen / Child (age 3 or older): 4,000yen
The tour will be operated by Aichi Bus Co.,Ltd.
※Tour participants will receive a free admittance public day ticket and an original Centrair calendar.
Participants will ride a bus and visit restricted areas that normally can be accessed only by authorized personnel. This exciting tour will give you the chance to watch aircraft take off and land from a very close distance. (For details please visit) http://www.aichibus.co.jp/tour/tour-bus.html
Detailed information http://www.aichibus.co.jp/tour/tour-bus.html
---
Blue Impulse Pilot Autograph Session
Oct 13 (Sat.), 14 (Sun.), AM Location: Airport ramp
An autograph session with active Blue Impulse pilots will be held at the airport ramp area before their demonstration.
---
Talk Show by the T-4Designer and an Aerobatic FlightPilot
Oct 13 (Sat.)  Location: Centrair Hall Sponsor: Aichi Science Festival
This is an opportunity to learn from specialists about the development history of the T-4 and its operation.